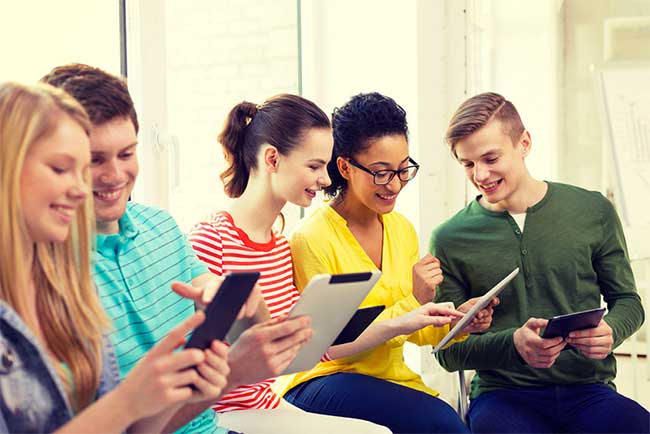 At present, it's not a secret that higher education is changing, as are the marketing in higher education techniques being used. We have identified some trends that have begun to play an important role in this, and will be key elements in 2016.
This is directly connected with the target audience. Who is your target audience? Future college students. The psychology, attitude and demands of your future students are not as they were 2, 3 or 5 years ago. This generation is very dynamic. The way they like to receive their information is different from what we are acustomed to. Their customs have changed, and their consuming habits have changed as well. So in 2016, what do universities have to do if they want to attract these new students? How can you get to them, and how can you keep them dedicated to your educational institute?
Social Networks
The use of social media is growing among secondary and university students. Schools which want to catch potential students´ attention, personally, will have to increase their marketing efforts in the social environment. They will have to widen their presence in the social networks and dedicate more resources to this kind of marketing.
Make sure to select your social network intelligently. According to June 2014 research from online review community Niche, "87% of secondary students used Facebook in 2014, but 90% didn't use LinkedIn, and more than 40% didn't get into Twitter".
Associations
An association with some companies offers many advantages when reaching future university students. It's really important for higher education institutions to get associated with brands which reflect their own beliefs, culture and goals. Contrarily, the risks of damaging their reputation or sending a wrong message to students and parents are high.
Stories
Well told stories, where the experience lived during university days is shown, is also a good marketing tool in higher education. An increasing number of schools are realizing that potential students want to participate at a personal level and listen to stories that motivate them.
Telling stories about professors, administrators, ex-alumni and enrolled students humanizes an institution, helps to increase the influence of the career, and enhances emotions.
Some websites and marketing material are on loan to the storytelling modules. Future students will have access to convincing stories coming directly from the university websites.
Applications
Applications are some of the most popular marketing tools available for the universities in this moment. In 2016, an increasing number of schools will create their own applications to attract future students. From educational applications to applications exclusively designed for fun. This tendency makes you unique in a market where offers are everywhere.
Though, higher education tendencies come and go it's important to take advantages of the opportunities when they are presented.
Other blogs: