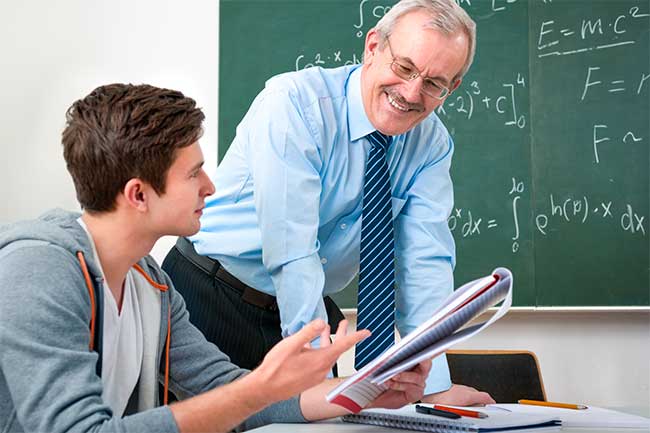 Motivated professors means motivated students, which means great results for your university as a whole. Being a professor always requires full dedication and service, and it´s not always easy for them to give their 100%. It´s essential for a professor not to lose his/her motivation, as his/her work produces other professions, and adds a huge contribution to society via the future generations they teach and the level of student motivation maintained. 
To improve motivation – and therefore improve the educational system – there are some actions that can be done from outside in. For example, most professors agree that the first thing required for improving motivation is to have an improved social recognition within the higher education institutions they teach at. Have a professor considered as an authority to stimulate social respect.
Professors can work on some elements as their labor's trust as everything done by a professor goes towards the development and student success, and hence the university. They have to remind themselves all the time, to focus on the best for their college students, and they must feel proud and satisfied when they see a student excelling in university or college, and the student retention rate remaining high. That's the reason why the work of a professor should never be isolated. There must be an active participation from the families and faculty, and management of the higher education institutions, colleges or universities. They should never be seen as an enemy or a burden.
Here are 8 tips for keeping professors motivated on their jobs, henceforth providing work at levels of the highest caliber:
1. Divide projects into small works; in other words, divide a project into many small ones. Making them concrete will be easier to deliver. Make sure they have the required resources to deliver the curriculum as required. This includes technology which is the key of education.
2. When they feel down and don´t know when to start, advise them to do it in simpler and smaller tasks that can be carried out in less time, and with more focus and detail precision.
3. With any job, it is fundamental to set a series of deadlines for the work required. Try to have these deadlines written down, agreed upon, and shared by many people. This will help them be more conscious about the deadlines and the timeframe that they are required to work within.
4. It's important that in times when they are down, demotivated and tired, to be conscious of that. Once you've realized that, and they have realized that, and collectively you have worked with them through it, it is fundamental to reward them for getting back on track with their work. Remember, that you are one team and the performance of the professor can deeply affect the overall performance of your higher education institution. This will help decrease the dropout rate of your students. 
5. Many times, professors can be too demanding with themselves, no matter what they do. It is common and easy for them to fall into the trap that what they produce is not enough. This can provoke a big loss of motivation in the professor as they don't consciously get what they do. This too can affect the overall performance of the student. That's why it is essential to track their levels of productivity vs expectations and curriculum requirements. 
6. Sometimes it is fundamental to break the routine, with the clichés, to produce new mental processes that let them see their work any from another perspective and angle. 
7. Entertainment is an incredibly important medicine to recharge their batteries, to get more energy, as when they have fun, they put the passion that is missing at work into some other activity. And when they see they have the energy and passion to have fun, it becomes easier to perceive that they funnel this energy into their job. Having fun helps them to disconnect, and then reconnect again with their work, having a much better disposition. Workshops, team building, trainings, seminars etc. are great ways to enhance the element of fun with your teaching staff.
8. Encourage them to get disconnected every once in a while. There are many ways to be disconnected. Some require more time than others. What is really important is that this disconnection can get them away from work. Once they return back, their energy level will be supercharged, and this energy and motivation will be passed onto the student.
I would love to hear your opinion on this. How do you make sure your professors stay motivated? What techniques do you use? Let me know by leaving a comment below.